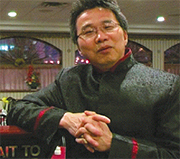 Hi my name is Mr Rennie So, I have been cooking most of my life. The Magic Wok is pleased to offer you the widest selection of Traditional Chinese and Canadian Chinese food in Atlantic Canada. Set in our new and modern restaurant. Please take time to view the Video / pic link of our website for a video history of The Magic Wok.

Our restaurant has become a bit of a landmark in St. John's. And for quality chinese ingredients for the chef in us all please visit our retail store on Duckworth Street East. Visit the Locate US, link for directions how to get to the restaurant and the retail store.

To my valued clients thank you for your patronage, and to all new visitors. Welcome!
Welcome
---
The secret to our success beyond our fabulous food is our knowledgable staff. Trained, educated and engaged in your every need. Whether you want the visual presentation of a flaming dish or the perfect suggestion for an appetiser. Our staff are absolutely the key to your enjoyment and The Magic Wok's popularity.

More then ever our clients tastes are changing. As we attract people to our provincefrom the larger cities our menus evolved. An increased selection and more traditonal style chinese items were added. However, we have never ignored our famous Canadian Chinese menu items. In fact we have added more to cater to childrens tastes as well.

When we rebuilt our restaurant we added all the newest comforts, from Air Conditioning to a private banquet room.

Drop by for lunch today. Or call and make a reservation for a night out.